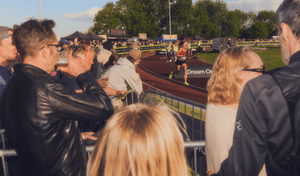 Night of the 10,000m PB's
For many Night of The 10,000m PB's needs little by way of introduction. For those who it does, it's a day of 10,000m track racing unmatched anywhere in the world.
Billed as the Glastonbury of Athletics it sees elite distance runners race through 2 x beer tents each lap, under a cross-track bridge and beside fireworks. Whilst circus performers, dance troupes, street food and trackside bars keep the thousands entertained between races. And, that's before we mention that the spectators watch the action from lane 3 of the track, and on the in-field; so close they can virtually feel the athlete's sweat, and the athletes taste their beer.
We sent Matt Moran down to Parliament Hill track on London's Hampstead Heath to capture a day of distance running like no other, at an event which keeps reinventing what the sport can - and should be - be for racers and spectators alike.